Cory Holly Classic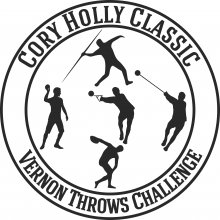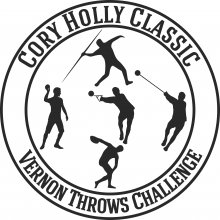 Live Long...THROW FAR! Vernon Athletics
---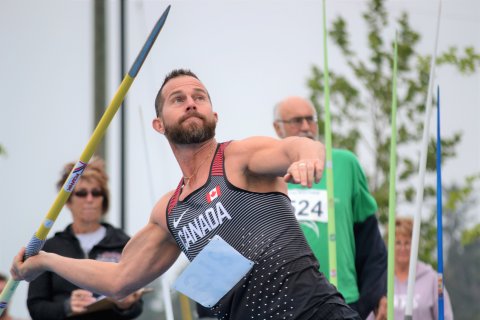 7th Annual Cory Holly Classic Throws Competition
Saturday August 19th 2023 Vernon BC
Open Throws Competition for Athletes 12+ years and up in Hammer, Shot, Discus, Javelin, Weight Throw and Throws Pentathlon



REGISTRATION
Trackie Online Registration Here...
---
PAST CHC MEET SUMMARIES
1st Annual Cory Holly Classic 2017
2nd Annual Cory Holly Classic 2018
3rd Annual Cory Holly Classic 2019
4th Annual Cory Holly Classic 2020
5th Annual Cory Holly Classic 2021
6th Annual Cory Holly Classic 2022
---
"Thank you so much for hosting the meet. As always it was incredibly enjoyable. Can't wait to see everyone next year."
Isaiah Collins
London Ont. Senior
"Thanks guys for the opportunity to throw at a beautiful venue in such a well run meet with an enjoy yourself atmosphere."
Bruce Foster
Alberta 75+
---
Meet Our Throws Competition Event Management Team
Meet Director



Cory Holly is the Founder of the Cory Holly Institute and the Cory Holly Classic. Cory is a Grandmaster natural bodybuilding champion and competitive Masters hammer thrower. He has played multiple sports his entire life and is dedicated to the promotion of optimum functional health and wellness. He is a father to three and a grandfather to seven.


Assistant Meet Director




Tracy Holly is the Managing Director of the Cory Holly Institute. She is a whole food cook and the author of The Athlete's Cookbook and Sports Nutrition for Kids. Tracy teaches Latin, Ballroom and Bollywood dancing and manages TKH Dance Club in Vernon. She loves her grandchildren and encourages all kids to be active and fit.

Meet Officer



Attila Torok is a born and raised Hungarian hammer thrower who was privileged to train and compete with some of the best throwers in the world for 10 years. Master coach Pál Németh helped Attila achieve several national champion titles at an early age. Attila's hammer training ended at age 18 due to mandatory military service, but his passion for the hammer was fused into his heart forever. Today Attila throws for fun, but he plans to get back to competition and help others improve their technique/distance.

Medical Officer



Eszter Torok is a Nurse at Interior Health in Salmon Arm where she lives with her husband Attila and their two children. She is originally from Szombatnely, Vas, Hungary.


Event Assistant




Mitchell Harris moved to Vernon in 2010 from Burnaby. He has a Masters degree in Mathematics and works as a scientific technical advisor in statistics and calculations. Mitchell loves hiking, working out at the gym and gaming with friends. He and Cory routinely play chi-ball and chi-pong.

Event Assistant




Michael Harrington moved to Vernon in 2010 from Burnaby. He works at Tolko Industries in Armstrong and is married to Ruby Holly, daughter of Cory and Tracy Holly. Mike enjoys hunting, pumping iron and video gaming. He is a father to three wonderful children.
---
Event Host and Executive Producer