The Athlete's Cookbook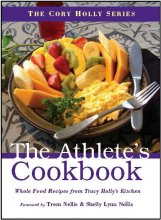 The Athlete's Cookbook is the third book in the Cory Holly Series and is written by Tracy Holly CSNA Master. The Athlete's Cookbook provides delicious recipes. Tracy reveals her best kept secret "The Kitchen is King". She uses only fresh whole foods guaranteed to enhance athletic performance and prevent inflammation. The dietary staples Tracy presents are the "foundation foods" required year round for a healthy lean body that functions at optimum levels. The recipes are practical, simple to make and very easy to digest. This book is definitely not a trend.
Digital PDF Format 65 pages
Read on your computer screen, print, transfer to a Digital Reader or burn to a disk
---
"In other cook books you will find most recipes include ingredients such as white flour, sugar, and lard. Tracy's recipes are different. You will only find whole foods selected to both taste good and enrich the body, mind and soul."
Shelly Lynn Nellis Editor-In-Chief FRESH Magazine
"I have had the pleasure of eating Tracy's cooking several times and each and every occasion has been an experience to remember. The finished results of her recipes are a combination of the ingredients she chooses and the knowledge and ability to create healthy and amazing creations."
Trent Nellis Publisher VISTA Magazine
---
Free Public Access Download Link Here
Book 3 - The Athlete's Cookbook (PDF eBook)
(not available in audio MP3 format)
---