Turkish Delight
Submitted by

admin

on February 11, 2017 - 5:47pm


The year is 1982 and I'm cruising through the streets of Istanbul on foot. What a place! Istanbul, once known as Constantinople, straddles Europe and Asia across the Bosphorus Strait between the Sea of Marmara and the Black Sea. Its current population is 14 million (2017). A sign ahead catches my eye. It's written in English and says, "Tourists welcome food and drink."
I walk up to the entrance, open and walk through the door. Inside are maybe a dozen tiny little tables and chairs that look like they're designed for three year olds. At first I think I'm in the wrong place. This must be a child care center or something similar, but then I notice several adults seated on the chairs conversing and sipping from tiny little cups.
So I set my bag on the floor, pull out one of the tiny chairs and sit down. It feels strange to sit on such a small chair, but I'm in the company of others doing exactly the same.
My mind begins to wander. Did I fall through a rabbit hole like Alice in Wonderland or is this an episode of the Twilight Zone?
A pretty young waitress wanders over and hands me a menu. I order a cup of Chai tea, which is very popular in Turkey. Chai tea is black tea consumed without milk and typically with a ton of sugar. I always drink it straight.
So how did I end up in Turkey? This is my story.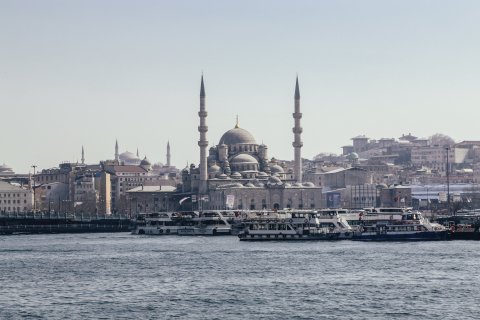 Greece is a whole different travel experience and article, but I got to Turkey from Greece, first from Crete to the Island of Rhodes, and from there, in a small fishing boat I hired to Marmaris on the Turquoise Coast of Turkey.
Greece and Turkey I would soon discover, are two countries that have been at odds with and fought each other in several wars each since Greece won its independence from the Ottoman Empire in 1821.
Marmaris is magical. It's a resort town along the Turkish Riviera known for its open-air clubs and buzzing nightlife. The people are friendly, the food is delicious and the atmosphere divine. I enjoyed many fine wild dance parties on the beach to all hours of the night.
Ultimately my goal was to get to Istanbul. Marmaris is about 800 miles directly south of Istanbul on the Mediterranean coast. Istanbul was the Gateway to Europe and just a place I wanted to see.
So like most of my European experience in that decade, I hitched around. Thumbing was legal back then and common. But you had to be patient.
And if you were it was awesome. I rode with plenty of very cool and neat people, you name it, I met them. Every creed, color and brand name you can think of, all complete with great conversation and positive human interaction.
I would crash sometimes in the back of a truck on the road, but most of the time I slept outside anywhere I could that was safe and sheltered. The weather was warm even at night so temperature wasn't a problem. The big risk was falling asleep and becoming vulnerable to attack. Attack from nocturnal creatures including other humans.
So I learned to sleep with one eye open as the saying goes. It really is true. You can learn to respond to danger during sleep almost immediately if your life depends on it. Your mind and body adapts and makes it happen.
One thing that comes to mind are the cabs in Istanbul. They were manufactured from American production plates purchased from American automobile corporations like Chevy.
The cabs looked like exact replicas of 55' Chevy's in mint condition for example, which happens to be one of my favorite car brands and make of year, but as I discovered, they weren't replicas, they were actual 55 Chevy's manufactured at production plants in Turkey and Europe. It was very cool flagging down Beach Boy cars and getting to places in style.
Istanbul proved to be a big hustle, plenty of noise and crime. So I got back on the trail and headed south to Syria. My goal was to get to Ankara, get a visa for Syria, walk on the Road to Damascus, which I did, then get into Lebanon which was at war.
Photo by Giuseppe Mondì from Burst
---



Stay well and live free!
---