Recipe for Health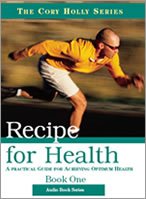 Recipe for Health is the first in a series of books narrated by Dr. Cory Holly. It teaches the listener how to live and get well. Recipe for Health defines optimum health and describes the ten principles steps essential to its achievement. This is the ideal book to introduce friends or family members to the world of alternative health care, sports nutrition and fitness. Discover the key ingredients you need to create your own Recipe for Health and learn the secret of true motivation.
Digital MP3 Audio Format 61 minutes
Stream on your computer, burn to a disk or transfer to an MP3 Player
---
"Cory Holly has provided us with a formula for quality self-care and has given us the rational and scientific basis for each of the ingredients in his Recipe for Health. His long history of interest in promoting health and fitness has created a very impressive role model for all of us."
---
Free Public Access Download Links Here
Book 1 - Recipe For Health (Audio)
---