Greatest Vitamin Salesperson
The Art of Selling Vitamins Certification Course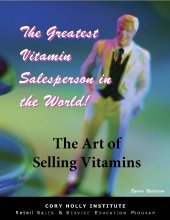 The Greatest Vitamin Salesperson in the World
This sales and service certification education program teaches how to sell natural health products as a top notch ethical professional in a demanding and highly competitive environment. Selling is the highest paid profession in the world, but to be successful you must know how to listen, talk and engage with people as a well trained expert.
The Greatest Vitamin Salesperson in the World education program specializes in the Art and Science of Selling. Discover the most important components for outstanding sales performance. Learn how to master the Essential Three Steps. Venture beyond the Golden Rule and apply the Platinum Rule. Learn how to blow your customers mind! Equip yourself with the Tools of the Trade and become The Greatest Vitamin Salesperson in the World.


Student Tuition & Enrollment Here $99.00 USD
Course Details
This education program provides professional certification and was developed for people who promote, endorse, sell or dispense dietary supplements. It teaches step by step how to sell dietary supplements to athletes, clients and customers with expertise and integrity without pressure. Annual sales of dietary supplements and natural health products worldwide now exceeds 200 billion dollars, yet most of the people who sell them have no professional sales training because until now, no sales training oductprogram specializing in the actual selling of vitamins was available.
This unique and essential sales training education program will increase your ability to interact with people who need expert advice and guidance on natural health products. It will teach you a powerful and proven sales strategy reinforced with positive intention, goodwill and nutrition science. If you sell or recommend dietary supplements to athletes, clients or customers in a health food store or gym, or as a network marketer, completion of this program is an absolute must. As you learn the secret of selling and apply the techniques revealed in this program you will become the greatest vitamin salesperson in the world.




Course includes study text, assignments, audio tutorials, exam, certificate and a copy of the Encyclopedia of Sports Nutrition.
The Art of Selling Vitamins Audio Sample
The Art of Selling Vitamins Program Excerpt
Required Reading for this Course
The Encyclopedia of Sports Nutrition
---
"Thank you for your "Greatest Vitamin Salesperson In The World" education program. What an incredible course! Your tips are now being fully utilized by my staff. This has made a noticeable difference in store cleanliness and most importantly customer satisfaction (our number one goal!). Since the training session I have had several customers comment to me on how helpful and knowledgeable my staff are as well as the improved overall look and appearance of the store. My staff and I are looking forward to completing the course and putting into action all of the information and knowledge you offer in this outstanding course."
Brad Alderson Owner/Manager Popeye's Supplements
Burnaby & Coquitlam BC Canada
---