Five Steps To Health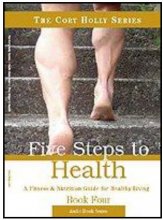 Five Steps to Health is the fourth in a series of audio eBooks narrated by Dr. Cory Holly. As a practical health and fitness solution, Cory will explain how applying 5 simple lifestyle steps can enhance your energy, strengthen your immune system and optimize your body composition. Cory's Five Steps include 5 workouts per week, 5 phases per workout, 5 meals per day, 5 supplements to take and 5 principles to live by.
Digital MP3 Audio Format 54 minutes
Stream on your computer, burn to a disk or transfer to an MP3 Player
---
"Cory Holly is at the frontier of Sports Science and scientific Self-Care in Canada, in North America and in the world. His no-nonsense approach is easy to follow, practical and guaranteed to give life-long results. Cory expands the frontier of superior human wellness to include our mind, body, psychological adaptation to positive thinking and he motivates us into spiritual wellness."
---
Free Public Access Download Links Here
Book 4 - Five Steps To Health (Audio)
---
Five Steps To Health Gym Workout Videos
Dr.C on ChiTV Five Steps to Health Day 1-Legs
Dr.C on ChiTV Five Steps to Health Day 2-Chest
Dr.C on ChiTV Five Steps to Health Day 2-Back
Dr.C on ChiTV Five Steps to Health Day 2-Shoulders
Dr.C on ChiTV Five Steps to Health Day 2-Arms
---