The Enigma of the Ectomorph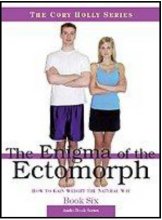 The Enigma of the Ectomorph is the sixth in a series of audio books narrated by Dr. Cory Holly. The Enigma of the Ectomorph teaches those who are naturally lean how to gain weight the natural way. This program provides a step by step plan based on science and Cory's experience working with hundreds of hardgainers in the gym. The focus is on training and nutrition and developing the mental habits of thought that are crucial to apply long term.
Digital MP3 Audio Format 62 minutes
Stream on your computer, burn to a disk or transfer to an MP3 Player
---
"Cory Holly is the ultimate "triple trust" authority for health and fitness education. Unlike many "experts", he speaks from the vantage point of intimate insight - the Scientist, Practitioner and Professional Athlete. His passion for truth has driven him to create only the best of quality education. You can trust his work and his words. Get this audio book! Why? Because it works!"
---
Free Public Access Download Links Here
Book 6 - The Enigma of the Ectomorph (Audio)
---