Biological Bodybuilding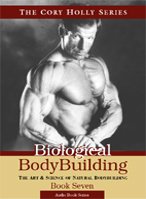 Biological Bodybuilding is the seventh in a series of audio books narrated by Dr. Cory Holly. Biological Bodybuilding is dedicated to the original true spirit of natural bodybuilding, meaning a noble lifestyle dedicated to optimum health and wellness. The program includes many important training principles and nutrition strategies that Cory applied to achieve his championship winning physique. Also included are guidelines for natural health product application, injury prevention and Cory's five essential keys to training success including nutrition, consistency, intensity, sleep and attitude.
Digital MP3 Format 62 minutes
Audio Book File Download link will be sent by e-mail after confirmation of purchase
Stream on your computer, burn to a disk or transfer to an MP3 Player
Biological Bodybuilding (Audio Book Seven) - Purchase Here
---
"Biological Bodybuilding is a model for life. Biological Bodybuilding is about health, wellness and performance in the human race. Congratulations Cory. Biological Bodybuilding is a formidable achievement; a concise and accurate depiction of the nutritional science and exercise physiology essential to bodybuilding, youth preservation and success in the human race. Apply it to win at your game; live by it to succeed in life."
---