The Athlete's Food Pyramid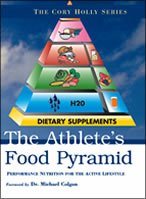 The Athlete's Food Pyramid teaches what foods to eat and why. It provides a comparison of several food pyramids and challenges conventional thinking with facts, clinical observation and real life athletic experience. This book liberates the athlete inside and defines the true meaning of sports nutrition. It emphasizes the consumption of organic, whole food and truly bridges the gap between fitness and nutrition.
Digital MP3 Audio Format 90 minutes
Stream on your computer, burn to a disk or transfer to an MP3 Player
---
"Beg, borrow or buy this audio book, but get a copy somehow. The Athlete's Food Pyramid should be in every workout bag, nay, in every kitchen in North America."
---
Free Public Access Download Links Here
Book 2 - The Athlete's Food Pyramid (Audio)
---